Structural Steel (SS)
Starting from 2008, Zamil Steel extended its structural steel fabrication division to Vietnam for targeting the highly potential industrial prosperity in Vietnam and the Asia Pacific region.
Structural Steel Introduction
A state-of-the-art manufacturing facility was established in Dong Nai, Vietnam, specializing in structural steel fabrication. The facility utilizes the latest Engineering software for Structural Steel Analysis, Connection Design & Shop Drawings Preparation and state-of-the-art Computer Numerical Coded (CNC) equipment for controlling fabrication process.
With an excellent track record in structural steel fabrication for more than 40 years, we bring you a total steel buildings solution that exceeds your expectation in terms of quality and functionality.
A Structural Steel Building detailed and fabricated by Zamil Steel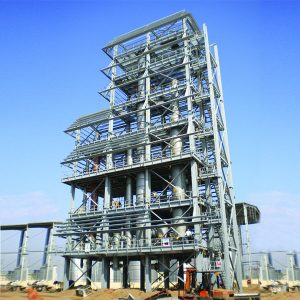 More about : Building Design
A proven track record & experience

Manufactured and supplied over 60,000 steel buildings worldwide.
Building applications range from High-rise Buildings, Warehouse, Oil & Gas Plant, Petrochemical Plants, and Industrial Buildings to Power & Desalination Plants.
Largest project recorded: More than 25,000 metric tons.

Strong Technical & Engineering Expertise

100% CAD and full detail automation
Cutting-edge in-house design software for detailing
Reliable design software (STAAD PRO, SAP 2000, TEKLA, RAM Connection, LIM Connection & Detailing) for structural analysis
Utilizing the most Updated CAD software systems (such as AutoCAD and Micro Station) to provide accurate and high quality engineering drawings.

State-of-the-art Manufacturing Facilities

Computer Numerical Control (CNC) Drill Lines, completed with drills and band saws for raw materials and plates drillings
CNC flame cutting equipment
Fully Automatic Submerged Arc Welding (SAW) Lines.
Stud welding machines
In house 16-wheel shot blasting machinery.
75 Overhead and Jib Cranes.
Comprehensive container loading facilities.
More about :Building Manufacturing
Optimized fabrication time and delivery schedule

Comprehensive in-house scheduling system to generate global fabrication and master plan;
Coordinated tracking system (Oracle ERP) to monitor turnaround time from Purchase of raw materials to Shipment of buildings.
More about :Building Logistic
Systematic Quality Assurance and Control

Stringent Internal Quality Control system ensuring all products are manufactured to strict international standards and specification.
Quality Control Engineers are certified to American Society of Non-destructive Testing (ASNT) Level III, Level II, America Welding Society (AWS) and BGAS-CSWIP.
ISO 9001, AISC (USA) and S1 (Singapore) certified manufacturing processes

International Recognition of QUALITY

ISO 9001 Certification by BVQI (Bureau Veritas)
S1 accredited Structural Steel Fabricator of Singapore Structural Steel Society (SSSS)
Dong Nai factory (South of Vietnam) certified by AISC (American Institute of Steel Construction) for the fabrication of steel building structures and "Sophisticated Paint Endorsement"

Excellent Service

100% commitment during project life-cycle
Erection Coordinator exclusively assigned to monitor and manage the entire erection process, ensuring the building is erected to the best industrial practices and specifications.
Archive of project documents library for future reference and usage.
More about : Building Instalation & Construction
If you are looking for a Structural Steel buildings contractor, please contact ZamilSteel Vietnam for our advice. We are ready to answers any questions regarding your projects.
Film the form and Zamil Steel Team will work out the details and contact you at the earliest.
More about Structural Steel Buildings :