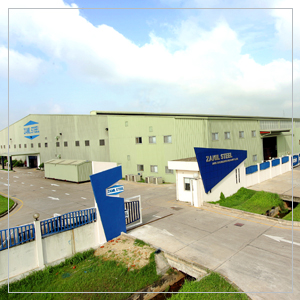 Zamil Steel group of companies, a subsidiary of Zamil Industrial Investment Company, was established in 1977. Zamil Steel is a global leader in the manufacture of pre-engineered steel buildings and the Middle East's premier supplier of structural steel products and process equipment, transmission and telecommunications towers, open web steel joists, and roof & floor steel decks.
In 1993, the company set up a representative office in Ho Chi Minh City, Vietnam and began exporting steel buildings to the South East Asia region. Four years later, in 1997, witnessing the robust growth potential of South East Asia, Zamil Steel took early initiatives to build our first plant in the Noi Bai Industrial Zone, Hanoi. The co-investment between Zamil Industrial Investment Company (ZIIC) and Mitsui & Co., Ltd has resulted in a 100% foreign owned joint-venture – Zamil Steel Buildings Vietnam Co., Ltd. In March 2022, Zamil Industrial Investment Company has become the sole investor for Zamil Steel Buildings Vietnam Co., Ltd
Today, Zamil Steel Buildings Vietnam runs two state-of-the-art factories with a total capacity of 120,000 MT of steel buildings per year. Further, the team has grown to over 1,000 staff and workers and has successfully expanded our sales network to ten Southeast Asia countries and Bangladesh. The company has delivered nearly 7,000 buildings to clients all over the world, ranging in a variety of sectors, from heavy industrial manufacturers, to commercial investors, institutional bodies, and real estate owners.